Brenda Gabe Leadership Award
Congratulations to Melanie Guiney - our 2023 Brenda Gabe Leadership Award Winner!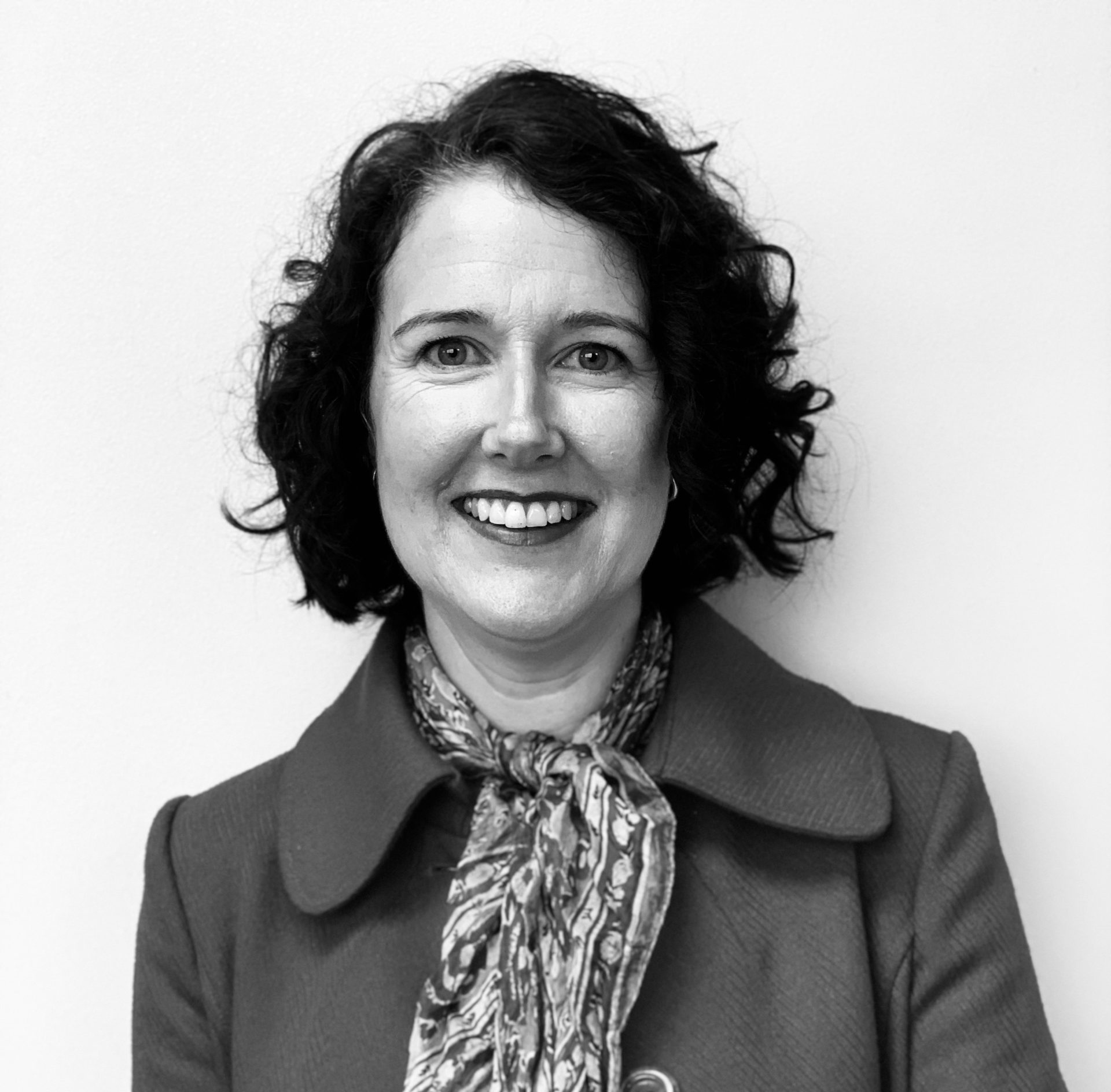 Melanie champions the right for all people to experience safe relationships and intimacy through sexuality education for people with cognitive disability, development disability and Autism. Her work reduces sexual harm and violence to women and girls with disability, and influences the disability sector and community attitudes to enable positive sexuality for people with disability. Melanie also developed and runs the Puberty Education Program (Pep Talk) which you can find out more about at rubixsupport.com.au.
Congratulations to all our 2023 nominees are listed below:
Nominee 1: Imi
Nominee 2: Julyne Ainsley
Nominee 3: Jocelyn Belmonte
Nominee 4: DeafBlind Victoria
Nominee 5: Wendy Devlin
Nominee 6: Amanda Duck
Nominee 7: Emma Gee
Nominee 8: Melanie Guiney
Nominee 9: Kerry Ladiges
Nominee 10: Libby Lake
Nominee 11: Sue Mancini
Nominee 12: Flic Manning
Nominee 13: Sandra Minchin
Nominee 14: Stephanie Mortimer
Nominee 15: Sofia Neale
Nominee 16: Jess Shaw
Nominee 17: Jessielea Skillcorn
Nominee 18: Peta Turnbull
Nominee 19: Emily Unity
2023 Brenda Gabe Leadership Award Photo Gallery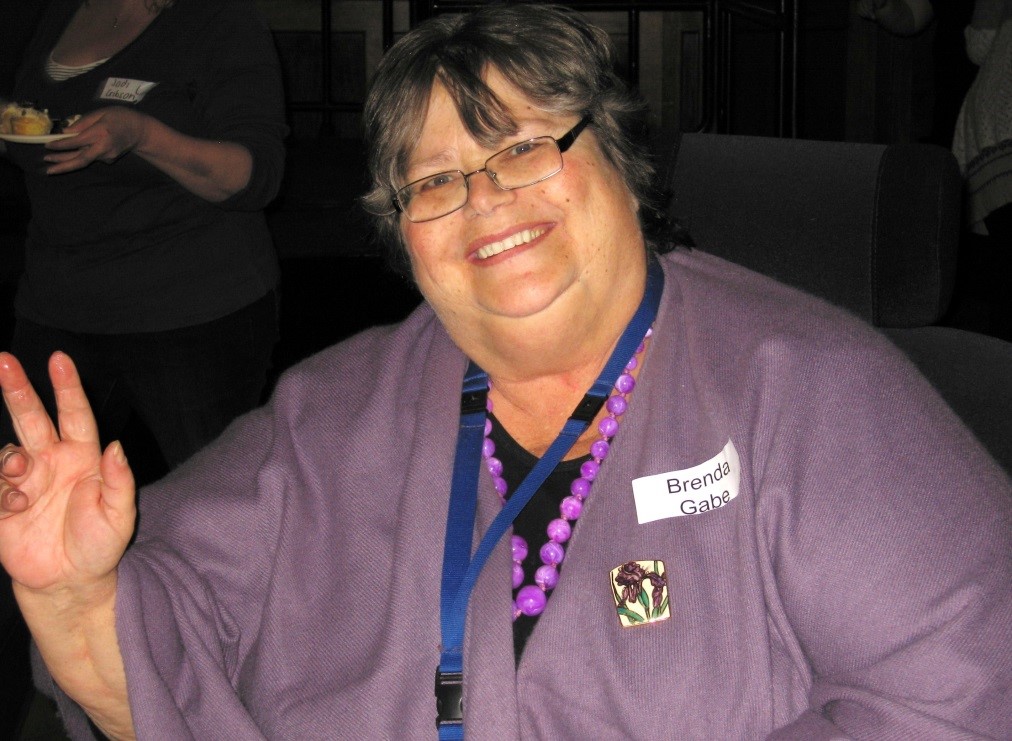 [Photo – Brenda Gabe] Caption: Close range photo of Brenda Gabe, wearing a purple top, smiling and waving to the camera]
Supported by Dr Helen Sykes, the Brenda Gabe Biennial Leadership Award is a WDV initiative that celebrates leadership amongst Women with Disabilities in Victoria.
The Award recognises and rewards the contribution women with disabilities have made, that is of direct benefit to women with disabilities, or to making a more inclusive community, in Victoria.
The Award is presented every two years. You can nominate yourself or your group (self-nomination) or any individual who identifies as a girl/woman (cis or trans), non-binary, or a gender diverse person who identifies with the values and ethos of WDV and with a disability who resides in Victoria.
We encourage women with diverse backgrounds and/or life experiences to be nominated.
Nominations for the next Brenda Gabe Leadership Award will open in 2025.
The winner of the Award receives $2,000 towards a capacity building project, or professional development. It is expected the winner will be able to demonstrate the award money was used appropriately, and provide a report the following year on what they've done since winning the award.
About Brenda Gabe
Brenda Gabe was a much loved and respected member of Women with Disabilities Victoria.
Brenda wore many hats; she was a school teacher, psychologist, champion swimmer, businesswoman, wife and mother.
After being diagnosed with multiple sclerosis (MS) in 1994, she became involved with Mulgrave Neighbourhood house and successfully completed the Leadership Plus course in 2007.
Brenda went on to become a strong and committed disability advocate, perhaps one of her most enriching roles. Amongst her numerous commitments, Brenda made time to represent Women with Disabilities Victoria on various committees, forums and conferences. She played a leading role on disability-related campaigns including making both housing and public transport more accessible and preventing violence against women with disabilities.
Making a positive difference for women with disabilities was very much at the forefront of all of Brenda's activities.
Winner of the 2021 Biennial Brenda Gabe Leadership Award
Elena MacDonald
Caption: A close up photo of Elena. They are a young Indigenous person. They are gazing at the camera with a closed mouth smile. They have green eyes and curly auburn hair. They are wearing a white collared shirt.
As a young, disabled Indigenous person who passionately engages with disability justice, abolition, and Indigenous philosophies in their day-to-day practice, Elena's leadership and voice continues to encourage other young Aboriginal and Torres Strait Islander women and gender diverse people to engage with the disability community. Elena has produced the Mob Dreaming Up: Yarning Sick, Disabled Realities broadcast. They have writing in multiple forms across publications; and has presented as part of the Disability Justice Network in the Emerging Writers Festival.
Nominees
Bronwyn Trickett
Cindy Lui
Eva Sifis
Heather Forsyth
Janene Sadhu
Kristy Forbes
Llewellyn Prain
Mon Ince
Roca Salcedo
Vicki Kearney
WDV Barwon Hub
Winner of the 2019 Biennial Brenda Gabe Leadership Award
[Photo: Shakira Hussein.] Caption: Two women sitting at a table. Shakira is on the left with a bunch of flowers in front of her. The lady sitting next to her is smiling and holding Shakira's certificate to the camera.
Shakira has written disability-related articles for Crikey and The Saturday Paper. Her Griffith Review article 'Nine Elevenitis' was selected for 'The Best Australian Essays 2011'. Her essay on raising her daughter as a single mother while having MS for the book 'Mothers and Others' was republished in the Good Weekend Magazine. Shakira is a much sought after speaker and was recently invited to speak at the International Summer School on Disability and Law at the National University of Ireland.
Nominees
Abbey Harrison
Abby Levy
Amanda Lawrie-Jones
Annecto Speakers Bank
Barwon Hub
Chaw Po
Claire Farrell
Eliza Hull
Jo Morgan
Kirsten Blain
Libby Witts
Lisa Eskinazi
Lisa Brains
Lynne Panayiotis
Maribel Steel
Pamela Debrincat
Peta Ferguson
Renee McCarthy
Ricky Buchanan
Susan Whiting
Tanya Clarke
Vincenza Fazzalori
Women with SCI Network
Yasmina McGlone
Winner of the 2017 Biennial Brenda Gabe Leadership Award
[Photo: Jenny Godwin.] Caption: Jenny sitting in front of a WDV banner and orange and purple balloons. She is smiling and holding a bunch of flowers.
Jenny is a committed advocate for women with disabilities and driver of transformative change in regional communities. Jenny's work has informed and strengthened partnerships to include women of all abilities.
Jenny's role with the Moira Shire Council Disability Advisory Committee, and involvements with Numurkah Community Learning Centre and the local Community House, has seen significant positive changes in attitudes, services and the built environment.
Her commitment to equality, empowers rural women living with disability and communities to enable access and participation for all.
Nominees
Karen Fankhauser
Jenny Godwin
Mandy McCracken
Rhiannon Tracey
Simone Pilens
Winner of the 2015 Biennial Brenda Gabe Leadership Award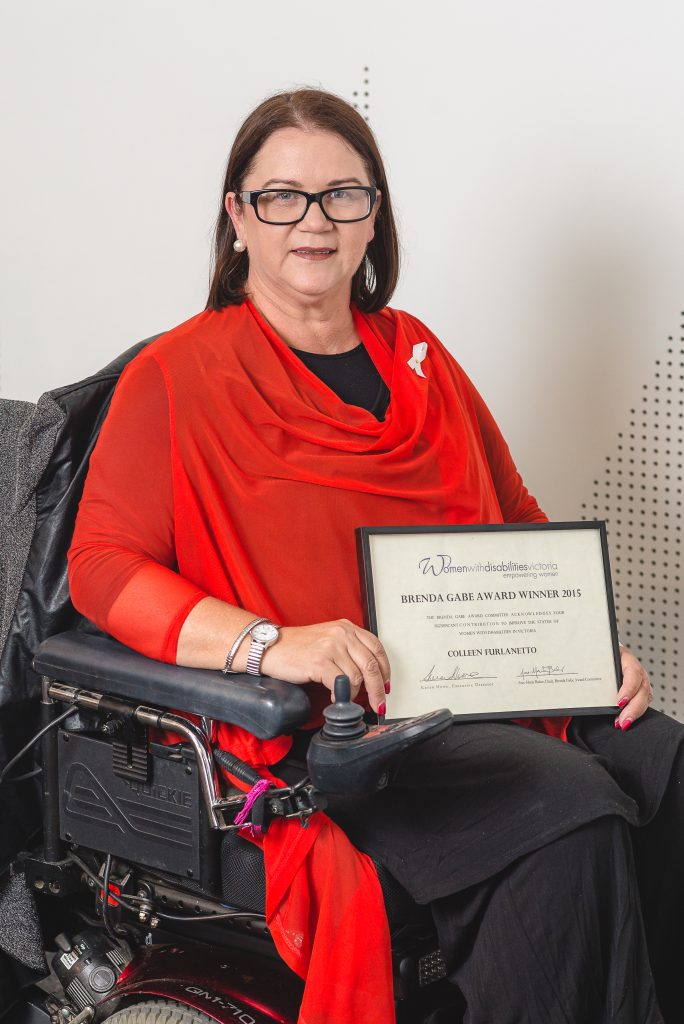 [Photo: Colleen Furlanetto] Caption: Colleen smiling and holding her certificate. She is sitting in her wheelchair, and is wearing a bright red top, with a white ribbon to symbolise stopping violence against women.
As the newly elected Mayor of Strathbogie Shire, Colleen Furlanetto is committed to bringing change at all levels for women in the areas of disability, violence and health care.
She chairs the Municipal Association of Victoria Prevention of Violence against Women Network.
Colleen is also a participant in the acclaimed Williamson Leadership Program.
Colleen recognises we are in a time of significant social policy change offering many people with disabilities choice for the first time. She has dedicated mush of her time to network and be a representative on committees and associations so she can be a voice for women with disabilities.
Nominees
Colleen Furlanetto
Deborah Haygarth
Effie Meehan
Fiona Tuomy
Fran Henke
Jax Jacki Brown
Lynne Foreman
Maribel Steel
Simone Stevens
Winner of the 2014 Biennial Brenda Gabe Leadership Award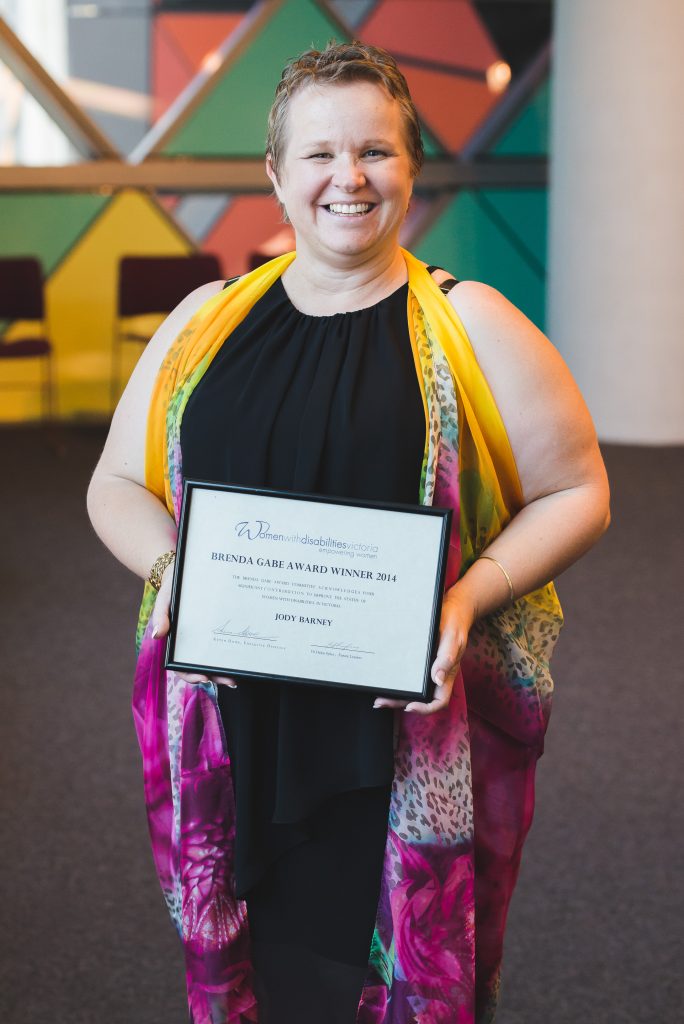 [Photo: Jody Barney] Caption: Jody, standing, smiling and holding her certificate. She is wearing a black dress, with a long colourful scarf that almost reaches the ground.
Jody has made enduring and valuable contributions as an Australian Indigenous leader, and as an advocate for people of all abilities.
She is the first Deaf Aboriginal woman to present at local, state, national, and international levels on the empowerment of Aboriginal people with disabilities.
She was actively involved in the National Congress process, the First People's Disability Network (Australia) and the International Deaf Native Gathering.
Jody models leadership to others in the Aboriginal, and disability communities, as she demonstrates a holistic approach to strengthening leadership and self-determination.
Nominees
Amanda Lawrie-Jones
Anj Barker
Barb Edis
Colleen Furlanetto
Danni Di Toro
Elle Steele
Fran Vicary
Jen Morris
Jody Barney
Maureen Hewitt
Melinda Smith
Peer Educators Living Safer Sexual Lives: Respectful Relationships – Rebecca Davis, Yvette Keane, and Kathrene Peters
Penny Stevenson
Susan Arthur
Tully Zygier
Winner of the 2013 Biennial Brenda Gabe Leadership Award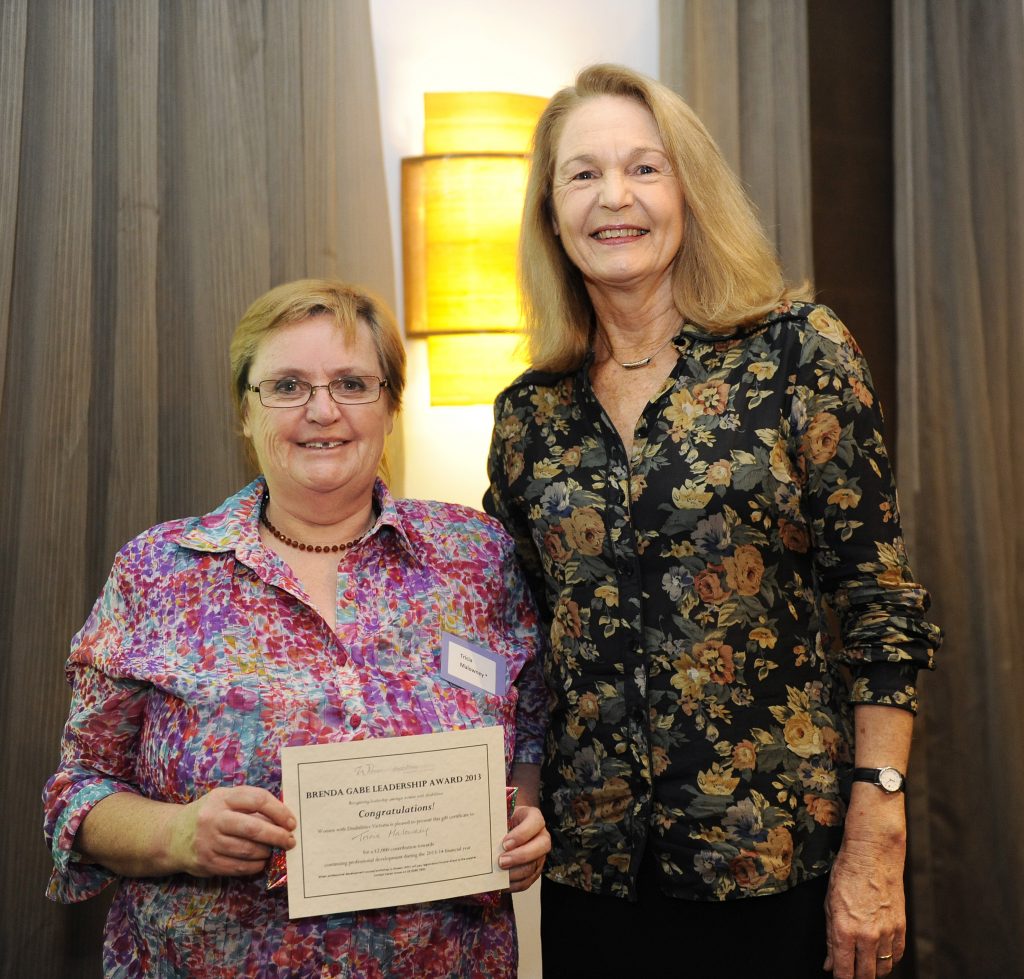 [Photo of Tricia Malowney] Caption: Tricia smiling and holding her certificate. She is standing next to Dr. Helen Sykes. Both are wearing floral patterned shirts.
Tricia is a highly respected advocate for people with disabilities who has worked at state, national, and international levels.
Since retiring from a middle management position with Victoria Police, she has contributed to and led in a formal capacity boards, committees, and councils, championing the rights of people with a disability. This includes being the first person to Chair the Royal Women's Hospital Disability Reference Group.
Her work has helped to ensure women with disabilities were included in research, policy planning, and development of key projects, including the Family Violence Protection Act 2006, and access to cancer screening for women with intellectual disabilities. She also successfully lobbied for women with disabilities to be included in the United Nations Population.
Tricia was the convenor and chair of the Victorian Women with Disabilities Network, during its successful transformation & renaming to Women with Disabilities Victoria (WDV).
Nominees
Andrea Murphy
Bendigo Community Health Service Peer Educators: Living Safer Sexual Lives – Rebecca Davis Yvette Keane, and Kathrene Peters
Cathy Clark
Colleen Furlanetto
Deafblind Victorians Self-Advocacy Group – Heather Lawson, Trudy Ryall and Michelle Stevens
Jennifer Robinson
Jenny Cheng
Jess Kapuscinski-Evans
Judith Hooper
Kim Ling Chua
Joy Clarke
Lisa Davis
Lynn Lancaster
Melissa Lowrie
Melissa Noonan
Michelle Rogers
Norma Seip
Peta Ferguson
Rebecca Biddle
Renee Biewer
Sally Smith
Shaunagh Stevens
Tricia Malowney
Val Johnstone
Vanessa Robinson