Experts in Our Health Phase 1 Evaluation Report Event
Are you interested in supporting health access? Do you work in the health, disability, government and university sectors?
You're invited to a free online event to launch the Experts in Our Health Phase 1 Evaluation Report. In this 30-minute lunchtime event, the Experts in Our Health team will present key findings and recommendations from the report, including:
• The barriers to health access driven by intersecting forms of discrimination, including gender discrimination and ableism.
• Key values, principles and practices that support inclusion and access to health services for women with disabilities.
• The importance of valuing the voices of women with disabilities through accessible co-design, employment and leadership development across the health sector.
When: Wednesday 6th September
Where: Online via Zoom
Time: 12:00pm to 12:30pm
The barriers to accessing healthcare for women with disabilities in Victoria are many. The Experts in Our Health Project aims to increase access to health services by building the capacity of women with disabilities, workforces and organisations. At the centre of the program are the Health Experts, who are a diverse group of women with lived experience of disability.
Participants Wanted: Enabling Young Women Leadership Program
Applications are open for our Enabling Young Women Leadership program.
This program is for women and non-binary youth aged 18-25 who identify as someone:
with disability (physical, sensory, intellectual, cognitive, etc.)
who is Deaf / deaf / hard of hearing
who lives with chronic illness, and/or pain
who is neurodiverse, e.g. autistic
who lives with mental health challenges.
…and wants to learn more about their human rights, speaking up, and how to be a leader.
We will learn about these things in interesting, fun, and creative ways.
The program will run on Zoom.
The program will start in September, with day and time to be confirmed once availability of applicants are known.
The program is free, and includes all session materials, handouts, craft supplies, and snacks. The program is open to those with a connection to the state of Victoria.
If you want more information, or help to apply, please contact Bridget Jolley via
Phone: 03 9286 7813
Email: [email protected]
Invitation to join the Experts in Our Health Community of Practice for advocates
Who we're looking for:
Women and Non-Binary People with Disabilities who want to:
• Advocate for accessible health services
• Share experiences and learn from other advocates
• Be part of an advocacy community
People advocate in different ways. We are looking for women and non-binary people with disabilities who'd like to share and learn more about advocacy.
Advocacy can be:
• Being a part of a disability leadership group
• Being on an advisory committee
• Advocating as part of your job
• Being an advocate for yourself
What's Involved:
The Experts in Our Health Community of Practice for women and non-binary people with disabilities will run from September 2023 until April 2024. Meetings will be held online and run for 2 hours. The Community of Practice will meet once every month. There will be 8 sessions.
How to Apply:
Please fill in the Health Experts CoP for Women and Non-Binary People with Disabilities Expression of Interest Form linked via the button below: 
You can also contact:
Rosie Granland on 03 9286 7816 or email [email protected] or
Dee Henry on 03 9286 7801 or [email protected].
WDV Board Recruitment Event
The WDV Board invites Members and interested participants to join them for a Board Information Session ahead of the 2023 AGM. The event will be held online, via Zoom, on Tuesday 5th September from 6 – 7pm. The session will cover:
About Women with Disabilities Victoria
Being a Director
What support is available
The application and election process
Questions.
The WDV Board Position Description can be found here.
The event will be accessible to all members.
Registration is required to attend this event and can be accessed here. Registrations will close on Friday 1st September 2023.
For any queries regarding this event please contact Belinda Burns, Board Governance Officer, WDV on 0497 186 467 or [email protected]
New Podcast - From the Outskirts - Regional and Rural Women with Disability
Welcome to one in a series of podcasts about women from rural and regional Victoria and Melbourne outer east living with disabilities.
In this episode, Liz Wright talks with Elise Stewart, CEO of Deaf Hub, Bendigo. Whilst Elise discusses some challenging topics, she's funny and honest and this is a really fascinating conversation.
Some of the content contains swearing and some of the content may be considered triggering.
Please enjoy and if you have any issues, you can call Lifeline on 13 11 14.
Quarterly Conversations is an online event that will deliver a guest or panel every three months, talking about topics and ideas of interest to our members.
The next event is on the 27th of September 2023, at 12.30 to 1.30pm. 
This is a free event for members, via zoom. Keep an eye on our social media or your emails for a link to register.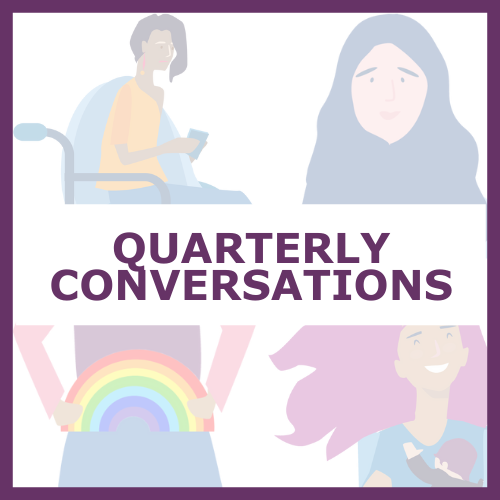 WDV facilitates five leadership networks (Hubs) for women and non-binary people with disabilities in local regions. Our Hub members get together regularly and support each other in their leadership, advocacy and empowerment goals. Join a hub to get involved in their events.