Participants Wanted: Barwon Enabling Young Women Leadership Program
Applications are open for our Barwon Enabling Young Women Leadership program.
This program is for women and non-binary youth aged 18-25 who identify as someone:
with disability (physical, sensory, intellectual, cognitive, etc.)
who is Deaf / deaf / hard of hearing
who lives with chronic illness, and/or pain
who is neurodiverse, e.g. autistic
who lives with mental health challenges.
…and wants to learn more about their human rights, speaking up, and how to be a leader.
We will learn about these things in interesting, fun, and creative ways. The program will run on Zoom.
The program will start in July, with day and time to be confirmed once availability of applicants are known.
The program is free, and includes all session materials, handouts, craft supplies, and snacks. If you want more information, or help to apply, please contact Bridget Jolley via
Phone: 03 9286 7813
Email: [email protected]
Actions for Prevention Launch Event
Women with Disabilities Victoria are pleased to invite you to Actions for Prevention, a FREE event to launch our newest gender and disability workforce development resources. 
Our event aims to provide an online space where we can highlight how gender and disability-based discrimination intersects and increases the likelihood of women with disabilities experiencing violence. To support this, we will be showcasing our resources along with discussions with women with lived experience on prevention of violence against women with disabilities. 
Resources to be launched are:  
Micro Webinar Series  
Self-paced micro-course aimed specifically at disability, prevention, social services, and government workforces to understand how easily violence against women with disabilities can occur and what actions you can take to prevent it.

 

Module 1 – What is Violence against Women with Disabilities?

 

Module 2 – What is prevention of Violence against Women with Disabilities?

 
Taking Action Guide  
Provides workforces in the social services, disability sector, local government and prevention settings with information to increase awareness, skills, knowledge and confidence to implement prevention strategies in their workplace. It brings together a number of key Women with Disabilities Victoria resources to showcase an intersectional perspective of prevention of violence against women – specifically focusing on gender and disability.

 
Prevent X Case Study  
A case study illustrating the value added to the 2022 Prevent X conference from consulting with Women with Disabilities' Experts by Experience Advocates.

 

Explores outcomes of the consultation and how that influenced the 2022 Prevent X Conference. 

 
Resistance and Backlash to Disability Inclusive Practice 
Tool describes a 'spectrum' of backlash and resistance to help identify how it often can take place in the workplace when preventing violence against women with disabilities.

 

Hope that using this tool will help you to better identify and challenge barriers of ableism and gender inequality in workplaces to prevent violence against women with disabilities.

 

Forms of resistance outlined by VicHealth's (En)countering resistance toolkit: Denial, Disavowal, Inaction, Appeasement, Appropriation, Co-Option, Repression and Backlash.

 
This important event is open to anyone interested in preventing violence against women with disabilities, in particular those who work in the disability, social services and prevention sectors.  
The event will be held on Tuesday 20th June 2023, online via Zoom from 11:00am to 12:00pm.  
An invitation to join the Experts in Our Health Community of Practice at Women with Disabilities Victoria
Do you want to be part of sector change towards access and inclusion?
Do you want to take action to support equitable access to health?
Do you want to network and collaborate across organisations?
About the Experts in Our Health Community of Practice
Women with disabilities experience multiple barriers to accessing health services. The Experts in Our Health Project supports health professionals and staff to improve the accessibility of services and implement inclusive co-design practices. This Community of Practice will bring together staff from diverse settings to collaborate and learn from each other. The focus of the CoP will be to learn, discuss and reflect on barriers to healthcare and practices that uphold rights and support access.
We invite expressions of interest from staff across a range of health services including Women's Health, Community Health, Allied Health, General Practice and Hospital services.
What's Involved:
The Experts in Our Health Community of Practice will run from July until December 2023. Meetings will be held online and will run for 2 hours. The Community of Practice will meet once every two months.
How to Apply
Expressions of interest for this CoP are open until the 15th June. Please fill our the Expression of Interest form below. 
For more information please contact Rosie Granland on 03 92 867816 or email [email protected] or Dee Henry on 03 92 867816 email [email protected] .
New Podcast - Regional and Rural Women with Disability
Welcome to one in a series of podcasts about women from rural and regional Victoria and Melbourne outer east living with disabilities.
In this episode, Liz Wright talks with Elise Stewart, CEO of Deaf Hub, Bendigo. Whilst Elise discusses some challenging topics, she's funny and honest and this is a really fascinating conversation.
Some of the content contains swearing and some of the content may be considered triggering.
Please enjoy and if you have any issues, you can call Lifeline on 13 11 14.
Quarterly Conversations is an online event that will deliver a guest or panel every three months, talking about topics and ideas of interest to our members.
The next event is on the 14th of June 2023, at 12.30 to 1.30pm. 
This is a free event for members, via zoom. Keep an eye on our social media or your emails for a link to register.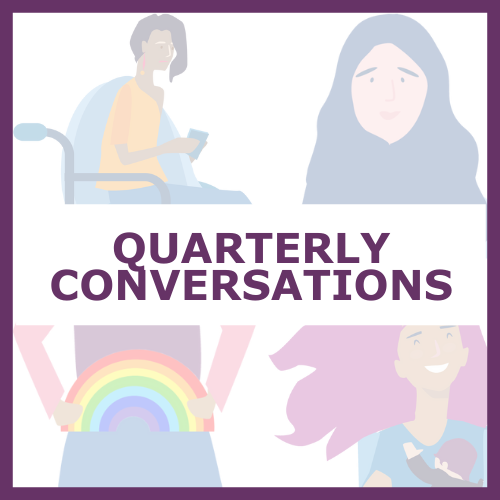 WDV facilitates five leadership networks (Hubs) for women and non-binary people with disabilities in local regions. Our Hub members get together regularly and support each other in their leadership, advocacy and empowerment goals. Join a hub to get involved in their events.