We call for an end to violence against women with disabilities.
Women with Disabilities Victoria is taking part in 16 Days of Activism against Gender-Based Violence.
The international campaign starts on November 25, International Day for the Elimination of Violence against Women, and ends on December 10, Human Rights Day. It also encompasses December 3, International Day of People with Disability. 
In line with Respect Victoria's theme for 2020/2021, Respect Women: Call it Out, we will be speaking about what respect means for women with disabilities and sharing our resources on violence prevention.
You can help us call for an end to violence against women with disabilities by following our campaign on Facebook, Twitter and Instagram and sharing our resources in your communities.
You can also share your own social media posts about what respect means to you. You can take a photo or video of yourself holding a sign, or simply complete the phrase: "Respect is …" and share using the hashtags:
#RespectIs
#CallItOut
#16DaysCampaign
Our animated video "Understanding Disability" talks about 6 keystones: the social model of disability, human rights, gender equality, intersectionality, centering lived experience and disability pride. 
When these 6 keystones are in place, we can work together for a more inclusive and equitable society.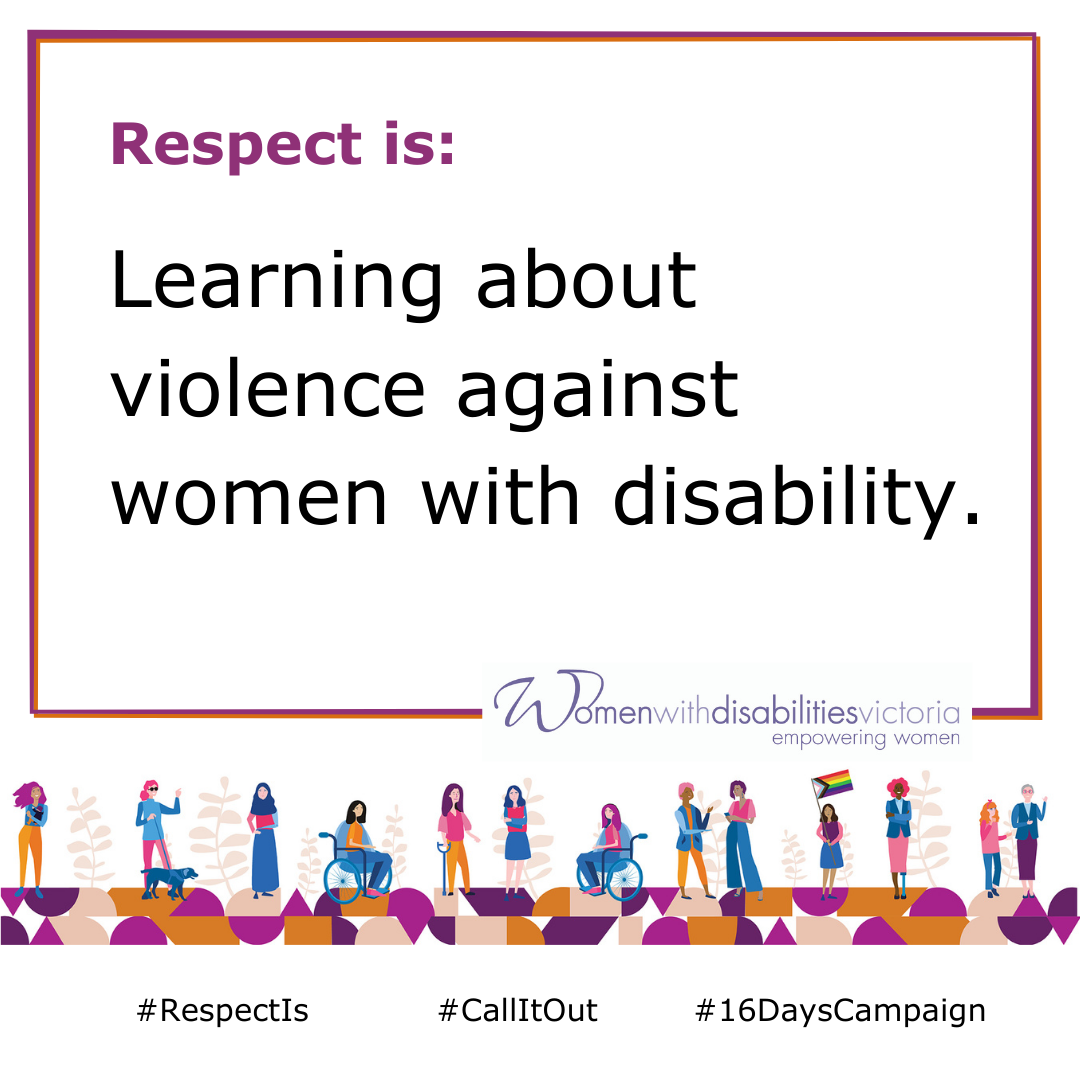 Women with disabilities are much more likely to experience violence than women without disabilities and have unique challenges when it comes to seeking support.
This factsheet looks at some of the statistics regarding violence against women with disabilities, and can be shared with health professionals, support workers and anyone who works with women with disability.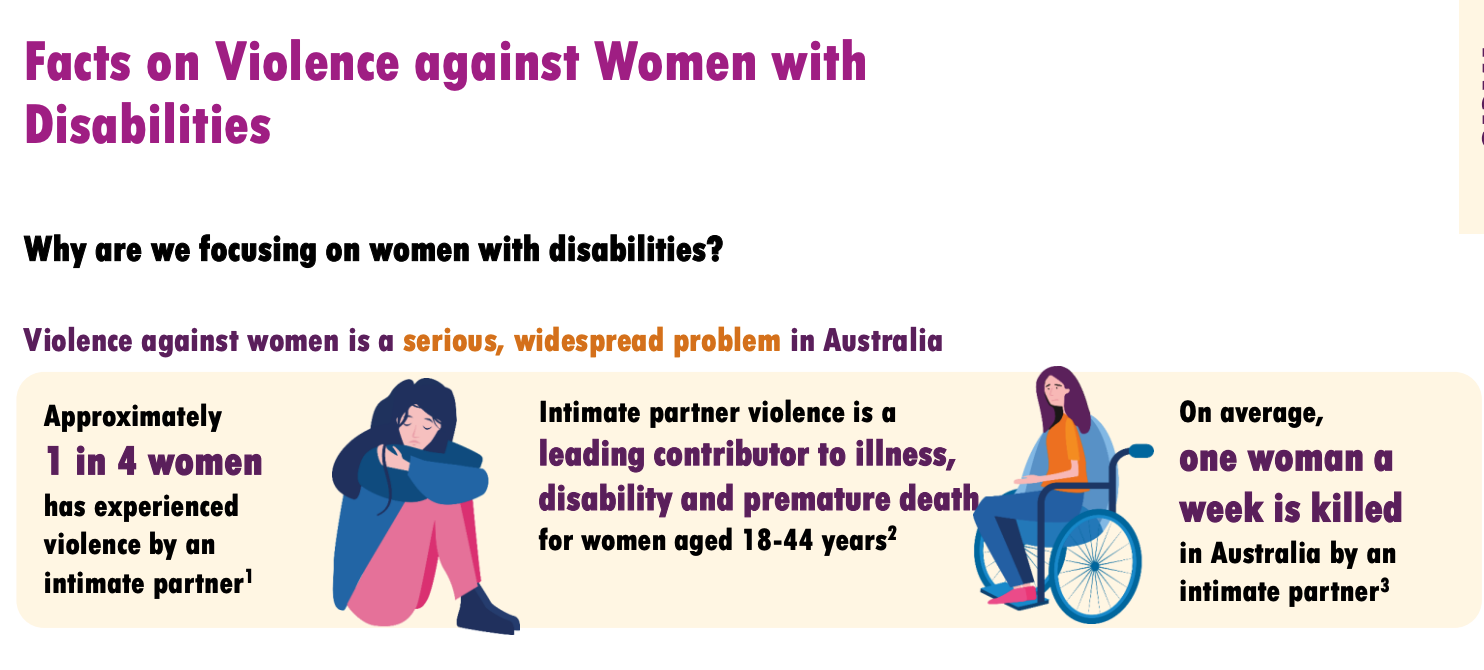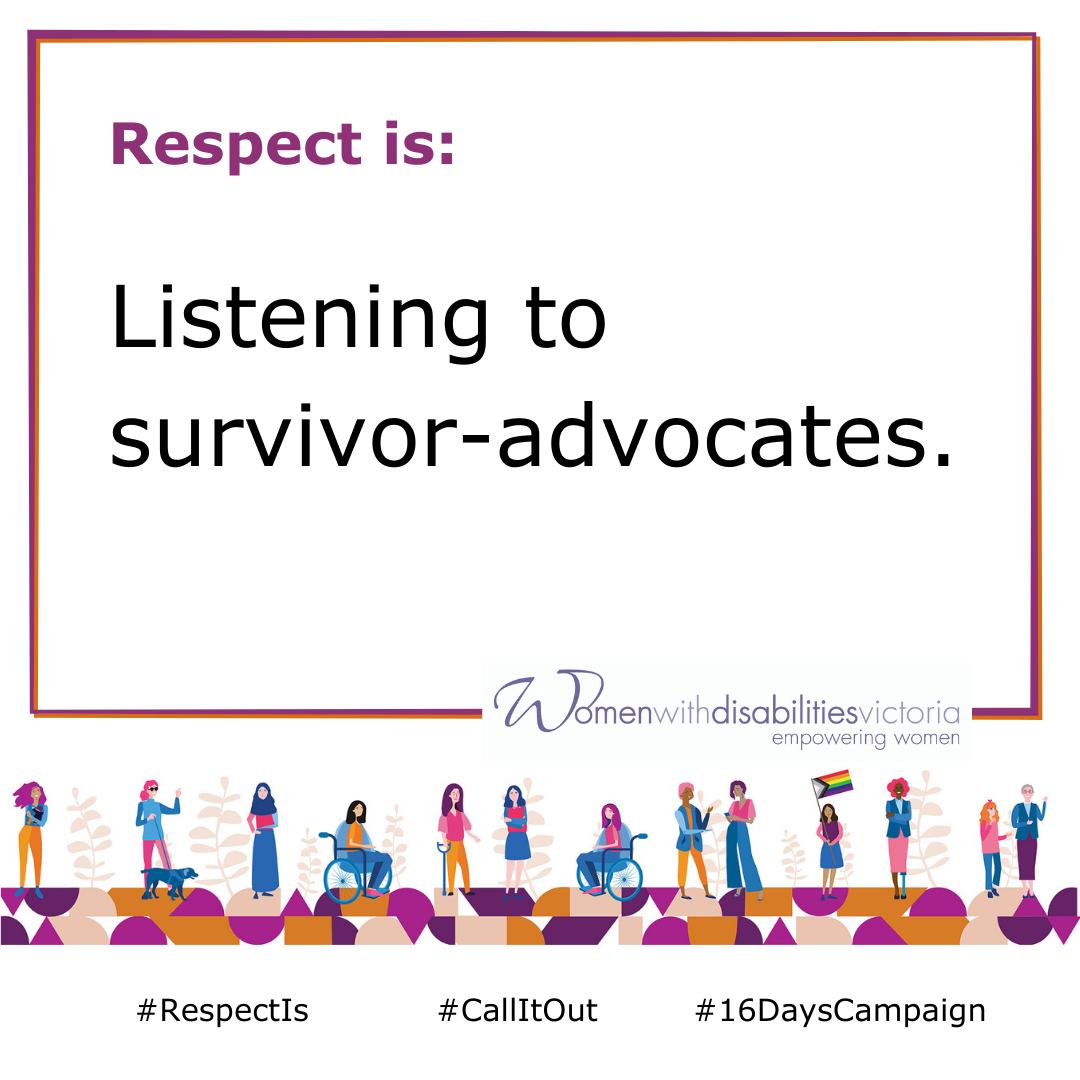 A short doco on the journey of survivor-advocate and WDV member Nicole Lee, filmed as part of our Do Your Thing series. Nicole talks about family, re-finding herself and her advocacy through the media.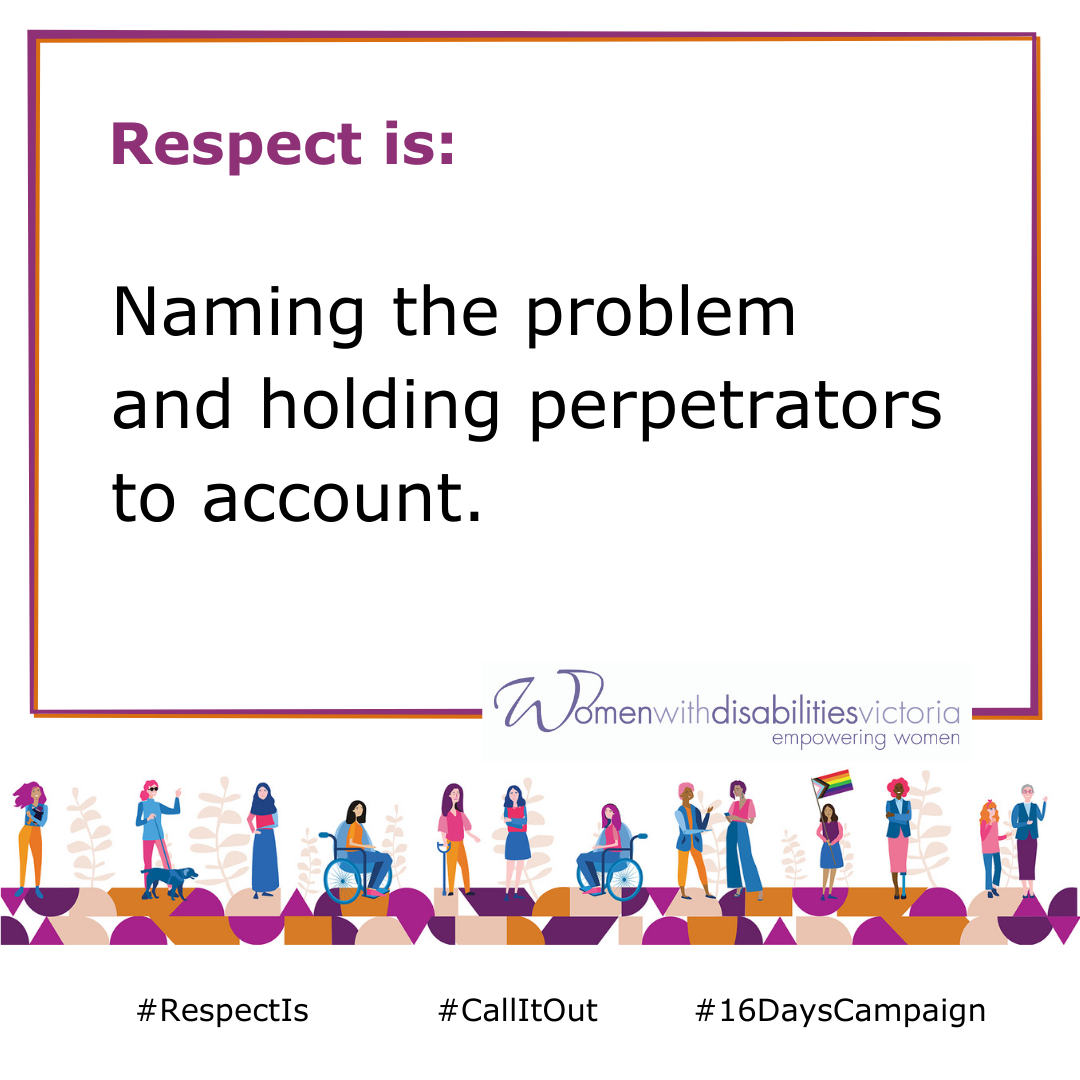 One of the main drivers of violence against women with disabilities is the condoning of that violence, particularly when perpetrated by someone in a caring role.
We have created a video resource, featuring women with disabilities and one ally, discussing their personal experience and knowledge on the issue.
The video is accompanied by information sheets, speaking more directly to the causes and actions that can be taken. These can be viewed in PDF and Word formats.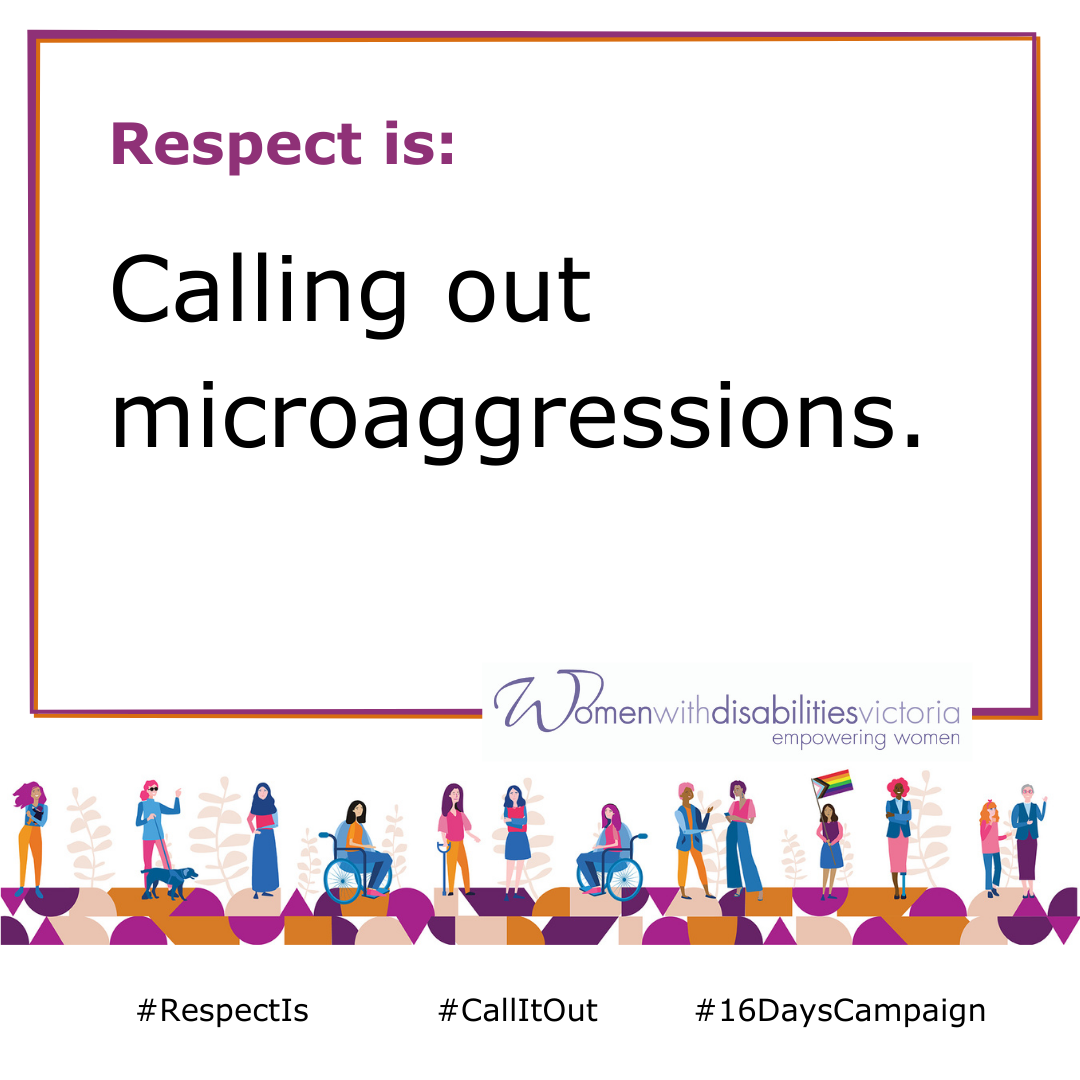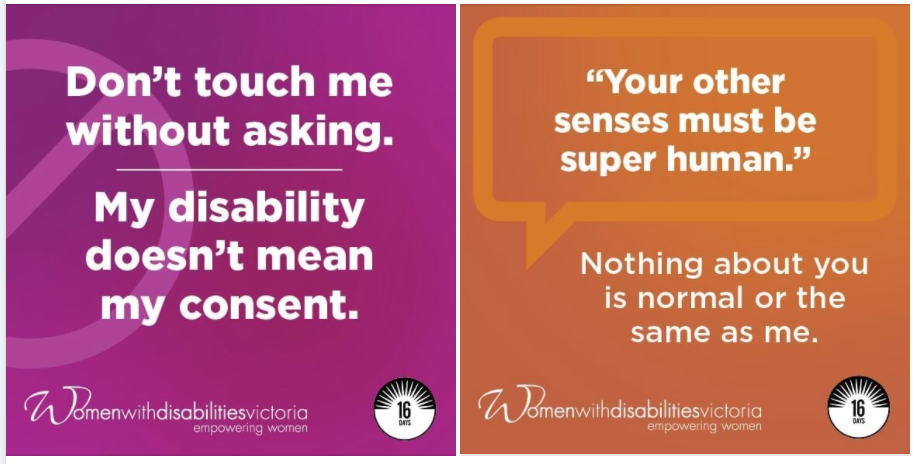 For many people with disabilities, the NDIS funds our essential supports. However, despite making up 49% of people with disabilities in Australia, only 37% of NDIS participants are women.
We have partnered with UNSW and Women with Disabilities ACT for research on why women are not equally represented in the NDIS. The study includes a literature review and interviews with women.
Women interviewed spoke about some of the reasons that women are under-represented in the NDIS. Reasons included that women are taught to hide or mask symptoms, that women and men are treated differently when they attempt to negotiate supports, and that conditions women experienced are not as often medically diagnosed as those experienced by men.
A series of publications will come from this project. The first two are out now in the International Journal for Equity in Health and in Broad Agenda.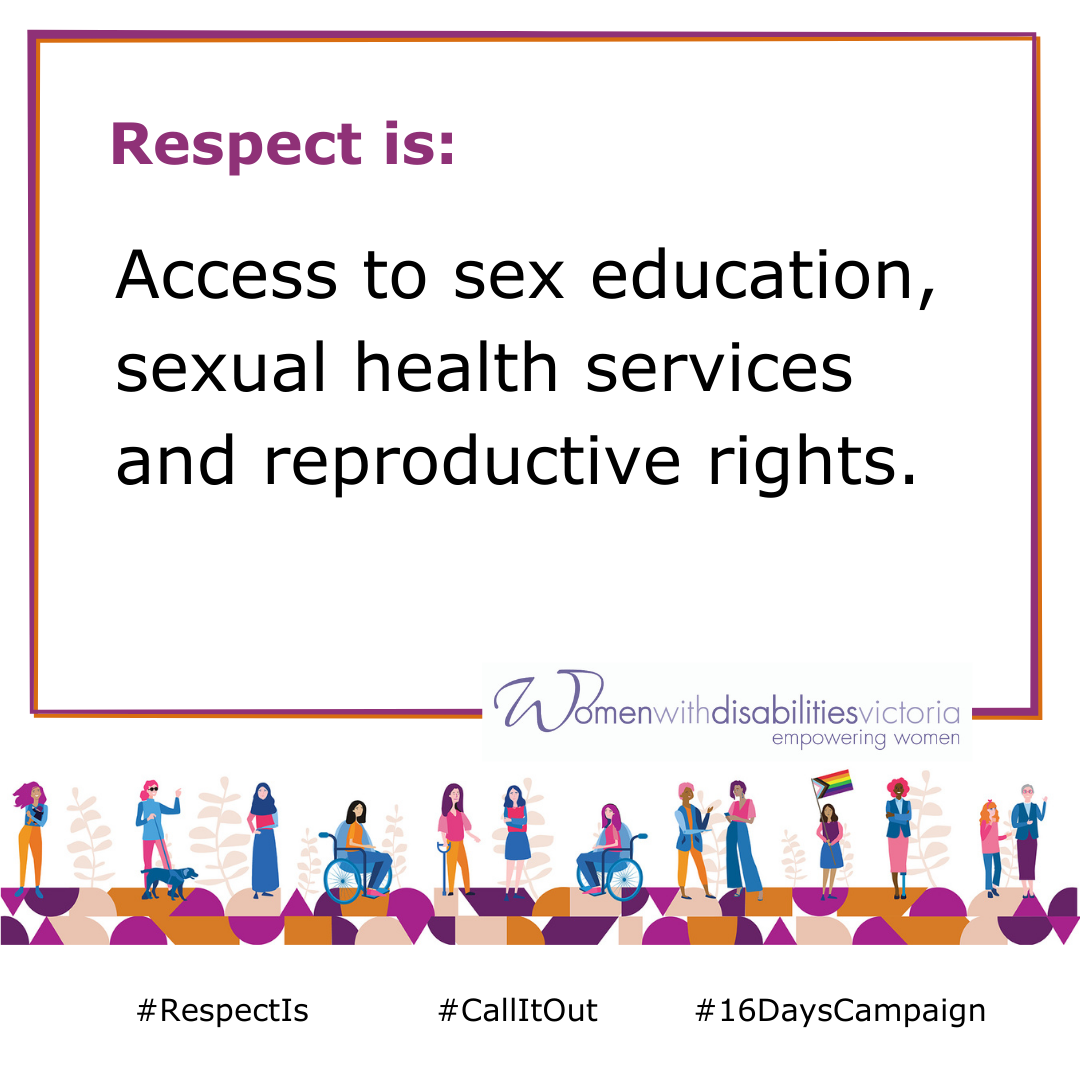 Sexual health services should be available and accessible to women with disabilities.
Women with disabilities are sometimes infantilised and assumed not to be having sex, or assumptions might be made that we do not want (or should not be having) children.
This can lead to sexual health services neglecting the needs of women with disabilities, or providing care that is inappropriate or inaccessible.
At Women with Disabilities Victoria, we have produced a series of educational videos for healthcare providers through our AcceSex program, exploring a range issues.
How to be Intersectional on Disability, Gender and Sexual and Reproductive Health
How to be more Accessible in a Hospital or Clinical Setting
How to Deliver Sexual and Reproductive Healthcare to Women with Disabilities
We also have a fact sheet on sexual and reproductive health for women with disabilities: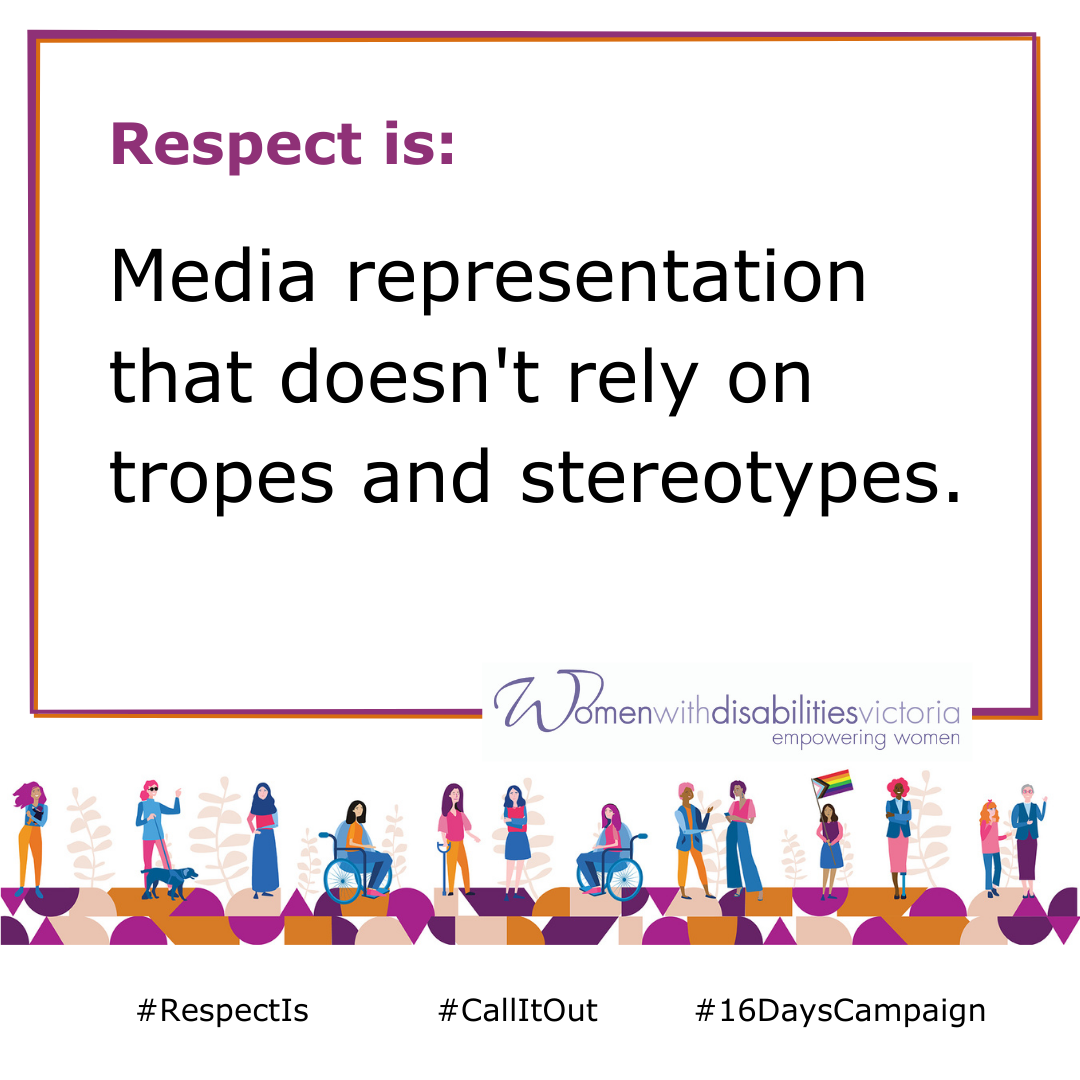 We want diverse media representation that doesn't rely on tropes about women with disabilities as tragic figures, victims, recipients of charity or tales of inspiration.
We want to be represented in all our diversity, with interests, quirks, jobs, hobbies, sexuality, family, ethnicity and community. We want to see women with disabilities in lead roles, not always as the supporting characters.
WDV has produced a series of videos exploring the complex lives of women with disabilities doing our own thing in our communities, which you can watch online (opens in new window).