Prevention of Violence Against Women with Disabilities Micro-webinar Series
Welcome to WDV's online self-paced 2-part micro-course aimed specifically at disability, prevention, social services, and government workforces to understand how easily violence against women with disabilities can occur and what actions you can take to prevent it. 
WDV would like to introduce our new pilot online awareness raising micro courses. These courses explore violence against women with disabilities. The first course increases awareness of the impact of violence against women with disabilities and the second course introduces prevention of violence against women with disabilities. Both courses have a short online assessment and feedback form – once complete, participants will receive a certificate of completion.
Content Warning 
Please note, in these modules we will be discussing violence and discrimination against women and people with disabilities. These topics can be distressing for some participants. 
If you are feeling upset at any time please exercise self-care strategies – pause the module, take a break, chat to a friend or colleague. 
If you would like to speak to someone about how you are feeling or your own experiences of violence, you can contact 1800 Respect on 1800 737 732. This service is also available for third party debrief if you are a worker experiencing vicarious stress. 
If you are undertaking this module in a home environment, you may wish to consider wearing headphones if there are other people in the house who you do not wish to hear this content. 
Gendered Language 
Please note, this course will use gendered language when we discuss violence, describing perpetrators of violence with he/him pronouns and victim survivors with she/her pronouns. 
This is not to suggest that violence cannot be perpetrated and experienced by men, women and gender non-binary people, or detract from experiences of violence that any of these people may have had. 
The use of gendered language is a conscious choice that reflects the evidence-base on family violence – that it is overwhelmingly perpetrated by men against women. Prevention of family violence requires an acknowledgment of these gendered dynamics, as well as an understanding of intersecting forms of discrimination including homophobia, ableism, racism and ageism. 
Module 1 - What is Violence against Women with Disabilities?
This module looks at many guises or forms of violence women with disabilities are subjected to including condoning, justifying, excusing violence, halo effect, carer stress, trivialising, rough handling, downplaying, gaslighting, shifting blame.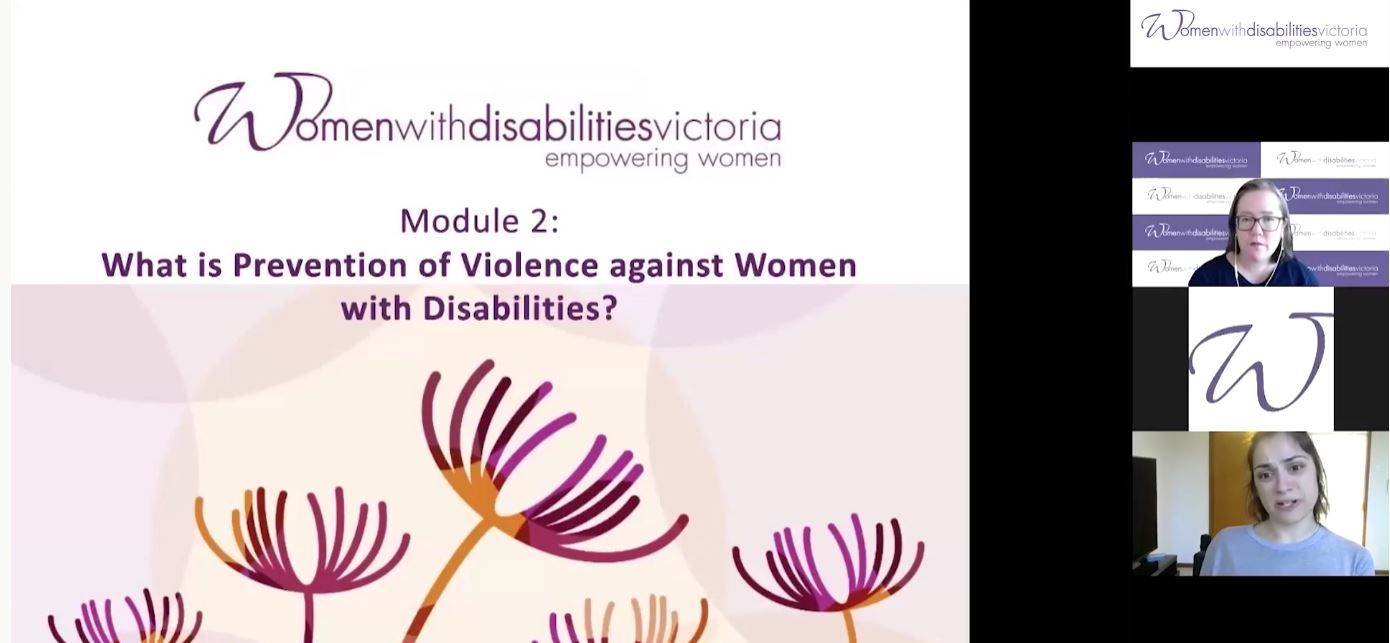 Module 2 – What is prevention of violence against women with disabilities?
This module looks at the enablers of violence and the steps you can take to prevent violence against women with disabilities using a strengths-based approach
Acknowledgement of Country
Women with Disabilities Victoria acknowledges the traditional owners and custodians of the land on which our office is based, the Wurundjeri people of the Kulin Nation, and the traditional owners and custodians of country across Victoria on which our staff are working remotely. 
We pay our respects to elders past, present and emerging, and acknowledge the rich culture of Aboriginal peoples across Australia, and their ongoing contributions to the wider Australian community. 
We acknowledge that this land was never ceded, and that we are the beneficiaries of stolen lands. 
We would also like to acknowledge the ongoing strength and resilience of Aboriginal women, who are five times more likely to experience violence than non-Aboriginal women, and 35 times more likely to be hospitalised as a result of their abuse.