Police and other services need to believe women with disabilities when we report violence.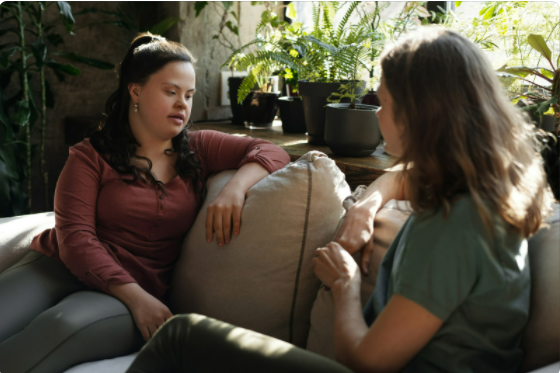 Last week, the Disability Royal Commission heard about violence against women and girls with disabilities. Our Senior Policy Officer, Jen Hargrave, was at the hearing.
Women with disabilities appeared as witnesses and told their personal stories. Many spoke about how they did not get much support the first time they experienced violence. This was part of why they experienced more violence, often over many years, from different perpetrators.
Witnesses made many recommendations to the Royal Commission about how women with disabilities who experience violence can be supported. For example, some women asked that police and other services believe them when they report violence.
Ms B (not her real name) said: "I want you to stop making Royal Commissions, stop making recommendations and actually do it. Laws in place, no more empty promises."
You can watch a video of Ms. B talking to the Disability Royal Commission on Twitter.
Tasmanian Legal Aid also spoke to the Disability Royal Commission. They support many women with disabilities experiencing family violence.
Tasmanian Legal Aid recommended that there should be a national legal and social service to support people with disabilities experiencing family violence. They said that the service should also support people with situations that involve child protection, family law and housing.
The last people to give evidence were from the National Disability Insurance Agency (NDIA). WDV recently did some research with the University of UNSW and Women with Disabilities ACT (WWDACT) about women and the NDIS. We found that women and girls don't get a fair go at accessing the NDIS. The NDIA have not done anything to change this unfairness.
The NDIA also told the Royal Commission they don't have any certain plans to improve how they respond to people with disabilities who are experiencing family violence. They could not say what the NDIA definition of family violence is.
Jen Hargrave and WDV member Nicole Lee wrote about the NDIA's evidence on Twitter.
Clear indication that they don't get it, and the massive reason why any changes, services, steps forward from here must be done with the disabled womens orgs @WWDA_AU @WDVtweet @WWDACT to name a few, and the family violence, sexual assault, and womens sectors.

— Nicole Lee (@_Nic_Lee) April 1, 2022
For more information about the Disability Royal Commission hearing on violence against women and girls with disabilities, please see Women with Disabilities Australia's Twitter account.
The Commission's next scheduled hearing will be 11 – 13 April. This hearing will be about the experience of people with disability working in Australian Disability Enterprises.
If you would like support around any of the issues in this post, please reach out.
You can call Lifeline on 1800 55 1800. Lifeline also has an online crisis chat service.
You can call 1800 RESPECT on 1800 737 732.
Blue Knot has a dedicated counselling service for people impacted by the Disability Royal Commission which you can call on 1800 421 468.